Rugby World Cup: Ireland skipper Sexton 'like Lazarus' in win over Springboks – Bowe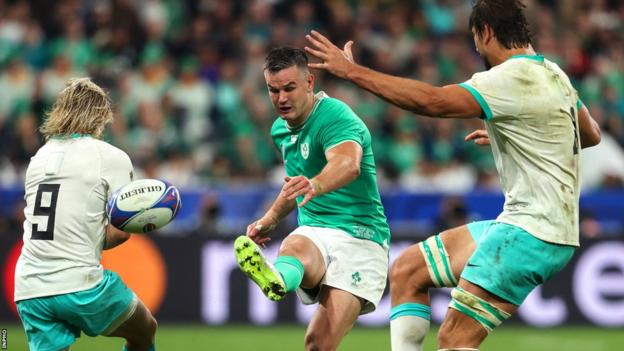 Tommy Bowe hailed veteran Ireland captain Johnny Sexton's powers of recovery in the epic 13-8 victory over South Africa at the Rugby World Cup.
Sexton, 38, took a number of big hits but still kicked five points as the Irish triumphed in the Pool B contest.
"There were so many times he was down on one knee and you thought he's going to come off, but he is like Lazarus – he just keeps coming back," said Bowe.
"He stepped up to the plate – his leadership is so important."
Speaking on the Rugby Union Daily podcast, former Ireland wing Bowe added: "Pieter-Steph du Toit put so many shots in which was marginally late and he [Sexton] kept getting back up."
Mack Hansen went over for Ireland's try as they came from behind in Paris to clinch a win which moves them four points clear of the Springboks in Pool B.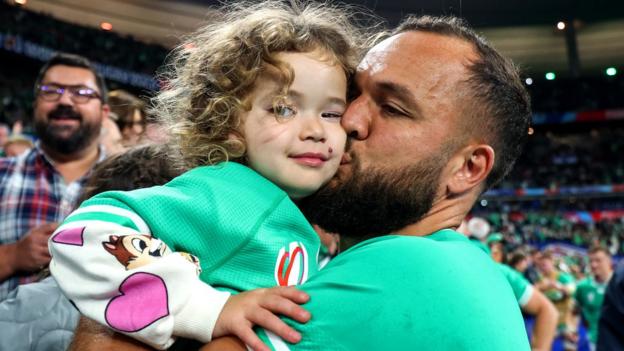 Bowe also picked out Ireland scrum-half Jamison Gibson-Park for huge praise.
"Gibson-Park is crucial to the speed and the tempo and the way Ireland want to play," added Bowe.
"I would question if Gibson-Park is more important to Ireland than Johnny Sexton."
The former Ireland wing described the contest as "two absolute heavyweights going toe-to-toe".
"It came down to the finest of margins. Literally we did not know what way it was going to go until the final whistle, but it's a massive statement from Ireland.
"They have gone into this competition as the number one team in the world they did not play the best rugby and we didn't really see any attack from them.
"But they did what they had to do and that's what you have got to do in these big cup competitions."
Poor goal-kicking cost the Springboks 11 points but Bowe believes that they remain a major threat to retain the Webb Ellis Cup.
"They just seem to take it in their stride. They are well use to this and they love to be written off, so this is exactly what they want," claimed Bowe.
"They want to play against France [in the quarter-finals] in the Stade de France in front of a French crowd and they will love nothing more to send them home early."
Former South Africa captain Bobby Skinstad says the holders will learn from the Stade de France defeat.
"I think this loss will steer them to not do this again, that means they will have a look at themselves in preparation for the final pool game.
"Most important for the Boks is the knockout part, they know it well and they can draw on some experience. To say we have tried something, long range kicks and corner kicks and that game did not work for us so let's try a different pattern.
"They will believe they are still in this tournament and with a big shot."
You can listen to the Rugby Union Daily podcast here