India Prioritizing Firming Up Plans For the 2022 T20I World Cup: Shreyas Iyer
Shreyas Iyer said that India is prioritizing firming up its plans for the upcoming 2022 T20I World Cup, to be held in Australia in October-November, over the results of bilateral T20Is after India lost the second T20I against South Africa in Cuttack to fall 2-0 behind in the five-match series.
Shreyas Iyer has said that the priority will be the execution of plans with the T20I World Cup 2022 in mind and not just winning the bilateral series. The two games so far in the five-match T20I series against South Africa have returned two losses under the captaincy of
Rishabh
Pant
.
Shreyas Iyer: India Will Play Aggressively In T20Is Even If They Lose Wickets At The Other End
India went in with the same playing XI in the second T20I despite the loss in the first and it was Heinrich Klaasen who turned out to be the big difference between the sides. The Proteas batter replaced Tristan Stubbs in the lineup and played a match-winning inning of a 46-ball 81 to take his side home in a 149-run chase.
"Our main aim is obviously the World Cup, so we have to see to it that we plan towards it," Shreyas Iyer said. "So we have that sort of mindset where we are completely free and not thinking about anything else. These are the actual games where we can practice what we were lacking in the past."

"That's what we keep discussing in the team meeting as well. No matter what happens, whatever plans we discuss in the team meeting, we have to execute those. Even if we fail, we will learn from that and grow as a player and grow as a team. So that's more important till we reach Australia."
One of those plans is for batters to keep attacking even if wickets are falling at the other end. That strategy was on display in the first T20I, where almost every Indian batter threw his bat around to take India to 211 for 4.
"We have made this plan that we will keep going no matter what happens," Iyer said. "Even if we keep losing wickets, it's our game plan and in the future too, we will go in with the same mindset. We will back ourselves and back our instincts."
However, on a difficult Cuttack pitch on Sunday, the Indian batters failed to score freely despite trying hard. Eventually, they could post only 148 for 6, which didn't prove to be enough.
"I feel if something we could have done on this wicket is playing until 11 to 15 overs," Shreyas Iyer said. "But at the same time, you need to keep the scoreboard ticking also. If I look back, I think 160 could have been a really good score on the board to put them under a little bit of pressure but we were around 12 runs short."
Shreyas Iyer mentioned that the priority for India will be the 2022 T20I World Cup in Australia and felt the need for playing with a free mindset. He noted that the ongoing series is an opportunity to practice the areas of concern that were lacking in the past and reckoned that the failure will definitely help them in the long run for growth as a player and as a team.
Shreyas Iyer Reveals Why Axar Patel Was Sent Ahead Of Dinesh Karthik
Shreyas Iyer also said that India wants to use Dinesh Karthik mainly in the last five overs. They lost their fourth wicket in the 13th over and Axar Patel walked in ahead of Dinesh Karthik. Axar Patel managed only 10 off 11 balls. Dinesh Karthik came out with 37 balls left in the innings but he too struggled to score quickly. He was on 9 off 16 balls at one point before finishing on 30 not out off 21.
"It's definitely something we have strategized earlier as well. We had seven overs left and Axar Patel is someone who can take singles, who can keep rotating the strike. And we didn't require someone to come in and start hitting from ball one at that point in time, " said Shreyas Iyer.

"Even DK [Karthik] can do that obviously but DK has been a really good asset for us after 15 overs where he can come and straightaway slog the ball. Even he found it difficult to start well today. Obviously, the wicket played a huge role in today's game, but we will be using this strategy in the next games as well, " said Shreyas Iyer.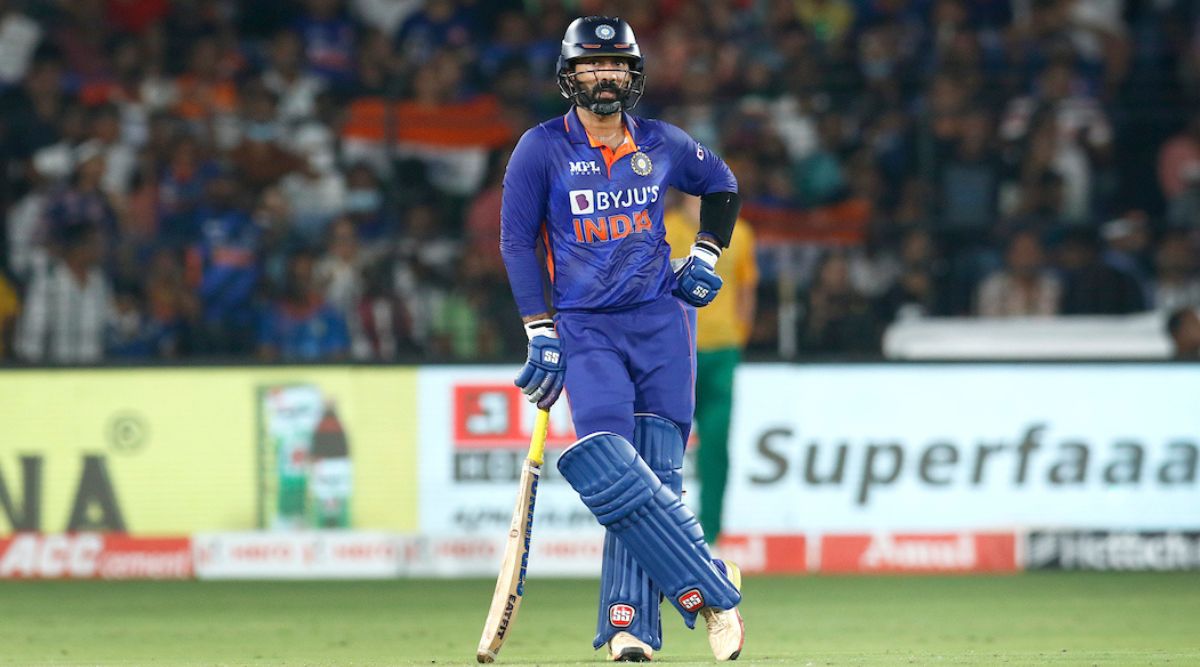 When Hardik Pandya was bowled by Wayne Parnell, India had been reduced to 90 for 4 in the 13th over against South Africa in the second T20I in Cuttack. Dinesh Karthik had been slotted in at No 6 but he was held back as India decided to send in Axar Patel instead.
While spinner all-rounder Axar Patel could manage only 10 off 11 deliveries, finisher keeper Dinesh Karthik, who arrived at No 7 with five overs left, overcame a slow start to knock an unbeaten 30 off 21. However, India could only post 148 for 6 in a four-wicket defeat.