Friday Reading is a weekly series of recommended reads from the Guardian's Martin Belam, covering journalism, media and technology, and other interesting nerdy things he found on the internet this week. It is now in its twelfth season. Sign up here.

Absolutely terrible news at the end of last week with the killing of MP David Amess. It seems to have revived the oft-cited canard about anonymous abuse on social media, which ignores 1) twenty years of prior expertise and 2) go on any Facebook group and you'll see plenty of people very happy to put their real name, face and employment details next to their most hateful comments. And the person banned from Port Vale for making racist social posts about Leyton Orient's goalkeeper the other week was perfectly happy using their traceable ID.
I spotted two comments of note on this from a colleague and a former colleague:
"Marie Le Conte: every politician coming out in favour of banning anonymity on the internet should also give up the right to ever give an unattributed quote to the press, IMO"
… and I was not aware of this …
"Jim Waterson: Separate, but related: British newspapers have negotiated a specific opt-out from forthcoming online harms legislation for the (often anonymous) comment sections on news websites."

Deeply depressing quotes from staff within this Vice piece: BBC Expected To Quit Stonewall's LGBTQ Diversity Programme
"I've worked for the BBC for over 20 years, and I've never known a worse time to be LGBT+ at the BBC. There is deeply engrained institutional transphobia at the heart of the BBC, exacerbated by promotion of anti-LGBT+ views in the name of 'balance'. I no longer feel safe as an LGBT+ person within the organisation."

This is a useful long read on the situation that has developed at Sussex University over Kathleen Stock, and in particular it addresses the difference between the concepts of "academic freedom", "free speech with consequences" and "free speech without consequences": The UK media has seriously bungled the Kathleen Stock story

I also found this useful and informative: Here's what we know about reports of women being 'spiked with needles' in UK clubs. There's no suggestion that these women aren't truthfully recounting their experiences, but there's considerable question about exactly what medically you could inject in such a way that people would barely notice it happening to induce those effects. Also worth noting, the public perception is often that "drink spiking" is a "stranger danger" event at clubs/pubs/gigs, when actually it more often seems to be something that is more of a risk at house parties/among groups who know each other.

Ron wants to be sure that you did this week's Guardian Thursday quiz: Carrie Fisher, ghostly jesters, and a curious motoring fine – take the Thursday quiz

"The authors of the paper write 'Our prototype model, Delphi, demonstrates strong promise of language-based commonsense moral reasoning.' This gives you an idea of how bad all the others have been."
Don't try and teach an AI ethics. It isn't going to be good at it. Delphi says stealing a giraffe from a zoo is wrong. Delphi says stealing a giraffe from a zoo is ok if it is an awesome giraffe. Janelle Shane explains.

"As freelance journalists, we are all used to our cold pitches going ignored but what happens when an editor who actually commissioned you to do some work suddenly stops answering your emails? Does it mean you do not actually have the commission, that they do not like your work or that you have somehow offended them? What do you do when you are being professionally ghosted?"
"What to do when an editor 'ghosts' you" – Lily Canter and Emma Wilkinson

Reminder that there are a lot of Covid pass-related phishing scams doing the rounds.

I thought this piece was interesting not so much for the bit at the top about the National Trust itself, but for the bit where Gaby Hinsliff talks about the history of Penrhyn Castle, and her talk with Dr April-Louise Pennant, whose family grandparents came to Britain from Jamaica, along with their Welsh surname, that was shared by Richard Pennant, the first Baron Penrhyn and an 18th-century MP for Liverpool.
There's also this great quote from Corinne Fowler, co-author of the National Trust's colonialism and slavery report which has angered so many right-wingers and conservatives.
"'Country houses have become places where you go to switch off, walk your dog and admire designed landscapes,' Fowler says. 'Nobody's going to worry about learning familiar facts on their visit – that the house belonged to an MP.' But being confronted with history you didn't learn at school can, she argues, feel threatening. 'It's not surprising it feels alien, because we know more about 1066, the Great Fire and steam engines than we know about four centuries of British colonial activity. But just because our education system didn't really prepare us for this, that doesn't mean that British history is under attack.'"
The streets I grew up on in Walthamstow include Penrhyn Avenue and Pennant Terrace – named after this family and this estate whose immense wealth and power was all built on forcing enslaved people to work in plantations. I just find it so incredible, the resistance in this country to anybody just even pointing out that the majority of our stately homes and great estates and the industrial revolution itself were all founded on the back of money gained this way. I guess it shatters that illusion of England and the Empire being forged by great men out civilising the world and kindly bringing them all cricket and railways.
"Cream teas at dawn: inside the war for the National Trust"

Lucy Webster is running a giveaway to new subscribers to her newsletter The View From Down Here – her thoughts on disability, feminism, books and politics. Subscribe monthly or yearly by Tuesday and be in the draw to win a copy of Sitting Pretty by Rebekah Taussig

It's another Matt Round Vole WTF classic: Are you a clickbait genius?
The quiz gives you four different headlines from a viral site, and you have to pick the one that got the most social media action in real life.

"We found, surprisingly, that no single feature of a headline's writing style makes much of a difference in forecasting success."
"How A/B testing can (and can't) improve your headline writing" – Nick Hagar and Nick Diakopoulos. That's not going to help you with the quiz, is it?

Not an Onion headline: Solar storm confirms Vikings settled in North America exactly 1,000 years ago

Also not an Onion headline: Pablo Escobar's cocaine hippos are legally people, says US judge. Unclear if judge was on cocaine at time.

+++ JOBS AND OPPORTUNITIES KLAXON +++
Leyton Orient are looking for a media officer.

Things Confucius Never Said – mistaken and misrepresented quotes from China's most famous philosopher.

TWITTER ACCOUNT OF THE WEEK: @jaythechou – does what it says on the tin: "I Photoshop Paddington into another movie every day until I forget". They are on day 227.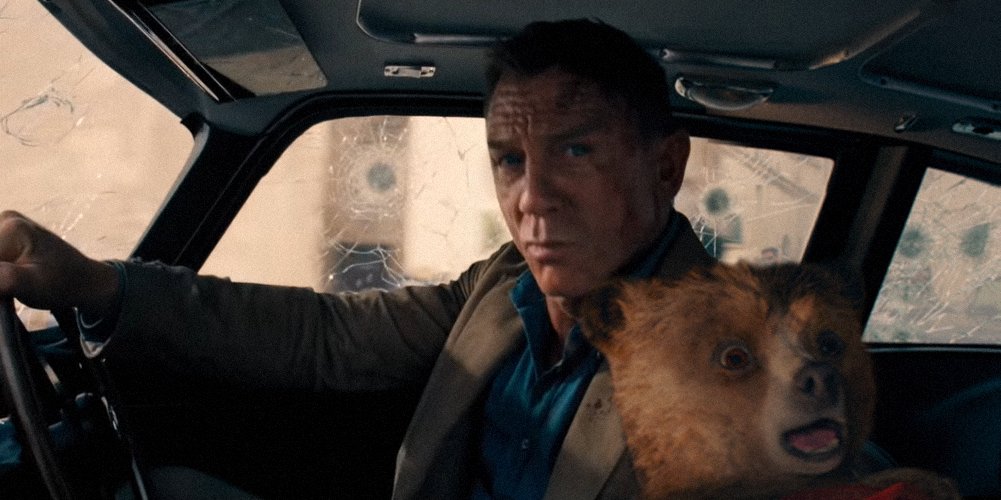 This should be good Halloween fun: Free Halloween talk – is there anybody there? by Hayley Stevens.

It looks like the Russian version of Dancing on Ice had a couple do a routine based on one of the songs from the Sparks Annette movie dressed as the characters in the film.

Hazel Southwell commented on Monday "Lots of nonsense from people who've never been to Saudi Arabia on the timeline today. I have, it's complicated. I wrote a very long, very gonzo thing about it a few years back". You can find that here, which I enjoyed a lot:
"The guy at the check-in desk thanks me for respectfully wearing Saudi-compliant clothes; my hair at this stage is still difficult to not look aggressively asymmetrical and I've finally learned how to do a hijab but it sort of unnerves me. Am I either appropriating or colluding with something, here? After all, I'm not muslim. I'd be a terrible muslim, I already miss wine."
Be warned, it is soooooooooooooooper-long though: What it's actually like to visit Riyadh, alone, for Formula E

TRACK OF THE WEEK: Hellscape by Julia Shapiro. I felt incredibly seen by the opening lyrics: "Wake each day / Stare at my phone / The burden of being alive."

To coincide with the original album being reissued in a special 1,057 Blu-Ray disc box-set, Stuart Ian Burns has compiled an alternative woman-sung cover version of the Beatles Let It Be album.

I'm sort of stupefied by the alt-right grifters reaction to the decision of the Rolling Stones – who have recorded something like 25 studio albums amounting to 422 songs – to not play one particular song on their current tour. But there's no money to be made in being reasonable I guess? This is a quite straight-laced look at Brown Sugar and its history and context by academic Timothy McKenry, but I did enjoy this final set of paragraphs:
"So does the Stones decision to pull the song damage their reputation? Is this an act of censorship, injuring artistic freedom?

I would argue the ethical musician should defer to the sensibilities of the marginalised group. The cost here is the Rolling Stones won't play Brown Sugar live. This isn't censorship; the song is readily available. It isn't even iconoclasm – music history is not damaged and no idols have been smashed.

The Stones' decision to pull the song isn't a confession of racism. It is an ethical act and, in itself, an act of artistic freedom that preserves their social license and affirms their ongoing cultural significance."
"Brown Sugar: why the Rolling Stones are right to withdraw the song from their set list" – Timothy McKenry, The Conversation
Or as I would put it, they are the Rolling Stones. They can play whatever the fuck they like, and if it makes P!ers M0rgan piss his pants about it, even better.

"Ideally, I wanted to almost make you forget what it is you're watching, so you're not sitting there checking off a list, or feeling like you could provide the essay version back to your partner when you go home of what the story of the Velvet Underground is."
Slate interview with Todd Haynes about his Velvet Underground doco that isn't a doco.

The hunted become the hunters, or something: KLF assert justified and ancient copyright claim to block documentary

It has been hugely PR'd that with his hit single with Dua Lipa, Elton John has become the first artist to have chart hits in six consecutive decades. It's a lovely tale. But completely untrue. Cliff Richard did it first, as Paul Sinclair explains.

Halloween is approaching. Why not celebrate it on Friday 29 October at the Night Owl in Finsbury Park at Heidi Heelz' HOWLOWEEN Hammer Horror Party with Rude Mechanicals, Long Swords DJs, m-orchestra and more! Tickets are £5, available here.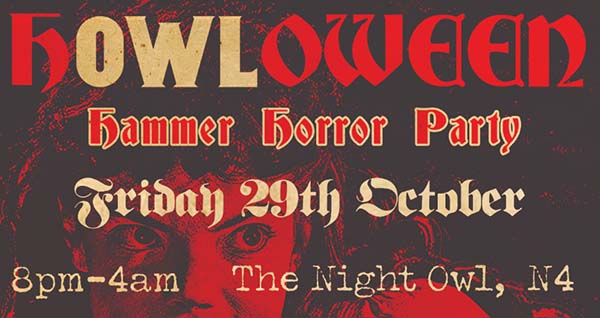 If you cannot make that, then I'm also pleased to be able to say that I am contributing a specially recorded spooky session to the Home-brew Electronica Show Podcast, which will be broadcast for the first time on the same night.