Bellator 293: Leah McCourt loses points decision to Cat Zingano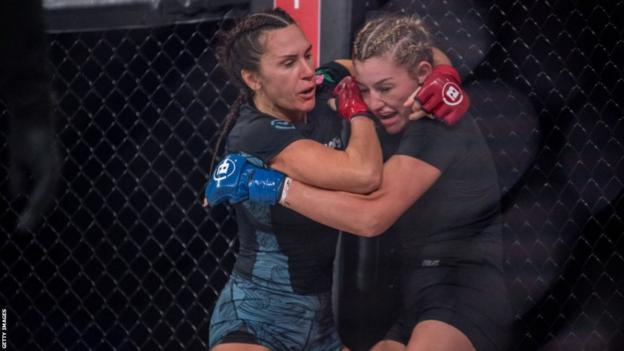 American Cat Zingano beat Northern Ireland's Leah McCourt in a close-fought battle to remain the number one contender for the featherweight title at Bellator 293 in California.
McCourt, 30, demonstrated some superb grappling over three frantic rounds.
But two eye-catching strikes, an elbow in the second round and a knee in the third from Zingano helped the 40-year-old edge the contest.
All three judges saw it in Zingano's favour.
Zingano remains undefeated in Bellator and moves to 14 wins and four losses overall in her career.
"She's really tall and really strong, and I'm not used to that at this weight class," Zingano said of McCourt.
"I knew it was going to be a tussle with her. It was going to be tough with her.
"What I do know is how to cause damage and I think the damage made up for some of the transitional periods."
In the heavyweight main event, Daniel James produced a fine knockout in the final round of his contest with Brazilian Marcelo Golm.
McCourt in fine form but misses out
McCourt had predicted a first-round finish in the pre-fight build-up and began the bout clearly looking for opportunities on the feet.
Zingano quickly moved the fight into grappling exchanges however, pushing McCourt against the fence.
McCourt was able to take Zingano down as a result but soon found herself defending a rear-naked choke attempt as Zingano was able to reverse her position.
It would not be the last time Zingano was able to turn the tables on McCourt in a strong position on the ground.
McCourt returned to her corner with a lot of swelling under her left eye thanks to a pinpoint elbow from Zingano in the final exchanges of the first round.
Belfast's McCourt started the second strongly as she caught a kick from Zingano and swept her opponent's feet.
Zingano was able to reverse the position however, and as McCourt attempted to stand back up she fired off a no-look elbow, the American attempted another kick.
The wild exchange allowed McCourt to take Zingano down again and the Northern Irish fighter tried to sink in a rear-naked choke before switching to an arm triangle.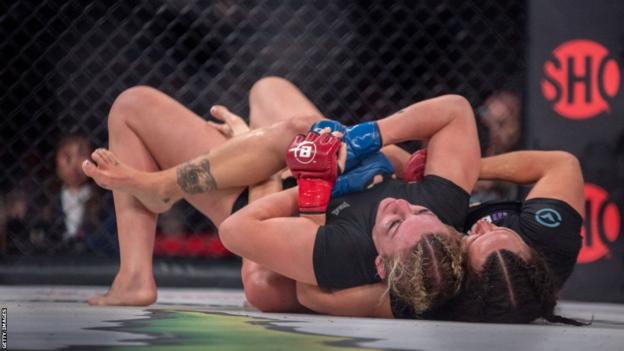 Neither submission attempts were successful and Zingano brilliantly moved into half-guard, in part thanks to more painful elbows.
The third round was another frantic one as McCourt dropped an off-balance Zingano in the opening seconds.
McCourt moved into a good position, but was forced to give it up as the referee issued her with a final warning for strikes to the back of Zingano's head.
The fight resumed and McCourt produced another impressive takedown moment when she swept the feet of Zingano in the clinch.
But once again Zingano's experience and expertise in defensive positions showed and she produced another reversal, prompting McCourt to look to return to her feet.
As McCourt straightened up against the fence, Zingano fired off a big knee that immediately opened a huge cut on her opponent.
Blood was pouring from McCourt's face but she fought through and tripped Zingano to take her down in the final moments.
But just as she had done so many times before in the fight, Zingano reversed into side mount, claiming back a dominant position.
Both women had their hand raised as they awaited the result and McCourt was visibly disappointed as the 29-28, 30-27 and 29-28 scorecards were read out.
While McCourt will return to the UK nursing the second defeat of her career, Zingano can now set her sights on fighting for the title.
Cris Cyborg is technically out of contract with Bellator but remains the reigning champion as she continues discussions with Bellator over a new deal.
"It's sound like it's a vacant belt half the time," Zingano said after her win.
"Of course I want to be the champion, I've been working on that for a while. Whatever that looks like, let's go."
A submission win and a marriage proposal
English light-heavyweight Luke Trainer proposed to his girlfriend moments after a huge win on away soil against American prospect Sullivan Cauley at Bellator 293.
Cauley was previously undefeated in five fights with five first-round finishes and was expected to continue his winning streak against Trainer in California.
But Trainer, 27, upset the odds to submit Cauley via a rear-naked choke in the first round and hand the American the first defeat of his career in a fine performance.
The Stevenage native then invited his partner into the ring and made an emotional marriage proposal, which she accepted.
"I've got one thing I need to do. It's been a long time coming," Cauley said.
"My gorgeous girlfriend is here, please baby girl come in [the cage].
"I haven't brought the ring with me so I'd like to take the ring off [your finger] and put it back on today.
"Baby girl I love you so much, you are everything to me. Will you do me the honour and be my wife?"
Trainer improved his record to seven wins and one loss as the rebuild from his first career-defeat last year takes on further steam.
The loss to Simon Biyong in May was quickly followed up by a win over Lucas Alsina last October before Trainer capped his first fight on American soil with an upset victory.